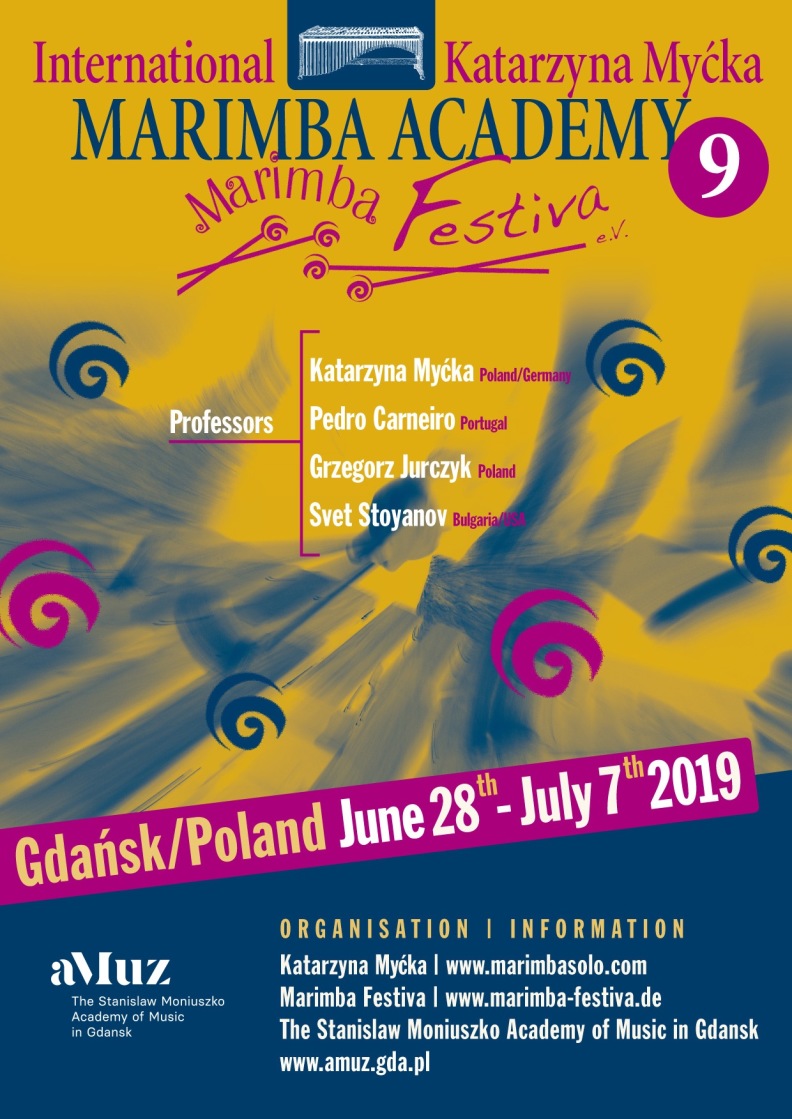 IKMMA 2019 in Gdansk
Known for its collaborative spirit and emphasis on creating community through music, the International Katarzyna Mycka Marimba Academy has a way of joining multitudes of diverse people together. Now, in its ninth edition, IKMMA brings the participants and faculty to the breathtaking town of Gdansk, Poland.
Studying at the historic Stanislaw Moniuszko Music Academy, Kaska's alma mater, students were involved in many activities. The German organization "Marimba Festiva" was also a collaborator with the academy and Kaska to help bring this event to life.
The days were filled with intensive learning, as each student had the opportunity to take one lesson per day with a faculty member. On top of that, students participated in multiple chamber rehearsals, and still managed to make time for their own private practice as well. Students were also welcome to watch lessons that took place, to both support their fellow students and learn from them. A new addition to IKMMA this time was the introduction of the Short Study Program: here, students had three individual lessons and were able to observe all the activities of the festival.
Students this edition hailed from Germany, Bulgaria, Taiwan, Poland, Canada, Spain, Costa Rica, Slovenia, USA, Greece, Peru, Switzerland, Greece, Japan, Cyprus, and China…basically, all over the world! The faculty reflected the diversity of the students involved: apart from Katarzyna Mycka (Poland/Germany), students also took lessons with Pedro Carneiro (Portugal), Grzegorz Jurczyk (Poland), and Svet Stoyanov (Bulgaria/USA). To assist the professors, Conrado Moya (Spain) and Filip Mercep (Croatia) resumed their positions of assistants for this edition. Special guests included the composer-in-residence, Anna Ignatowicz-Glinska, and Ron Samuels, the owner of Marimba One.
In addition to the daily lessons and rehearsals, there were concerts every evening that showcased the faculty, guests, and the students themselves. Two concerts to highlight were the outdoor concert that featured many students on a Marimba One Wave instrument, as well as Anna Ignatowicz-Glinska's composer portrait: this concert in particular featured exclusively her pieces, and while there were many percussionists featured, guests Anna Fabrello (soprano), Leszek Lorent (percussion), Izabela Paszkiewicz (piano), and Adam Stachowiak (trumpet) joined students and faculty on stage to perform in Anna's chamber works.
To witness international friendships being born between marimbists from all walks of life due to their common love of music is a beautiful thing: this not only influences the way we make music together in chamber ensembles, but also on our outlook of music in general. The faculty were truly inspirational, kind, and extremely skilled. This festival is a special place for many to see old friends, make new ones, and to journey further in their walk as a musician.